Choose A Crestron Dealer As Your Automation Partner
Learn why you should choose Crestron for your Newport Beach smart home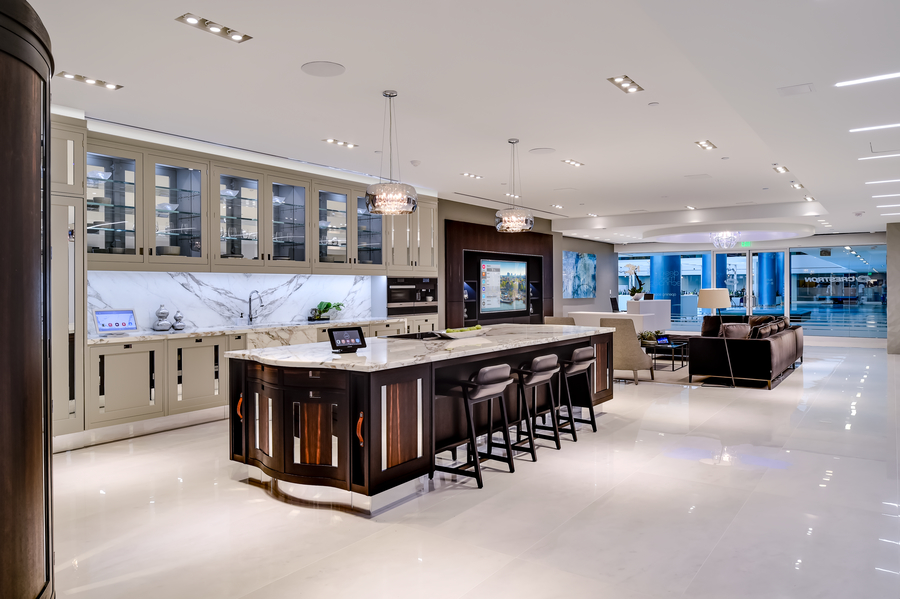 Luxury homes require tailor-made, smart technology solutions. Control your thermostat, lighting, climate, entertainment systems, and more with just the touch of a button when you use a Crestron home automation system.
With the top customization options in the industry, the most reliable hardware and a reputation for stellar, performance, we recommend Crestron for all our smart technology. As your local Crestron dealer, This is why we believe you should choose Crestron home automation for your Newport Beach, CA home.
SEE ALSO: A Day in the Life
Unlimited Customization Options
Crestron maintains the highest of standards for their certified dealers. To receive this honor, integrators must go through a challenging training program to learn how to program custom solutions into their systems.. Because the software is open-ended, dealers can artfully craft solutions just for your home.
This means a wide array of configurations including smart scenes. We can create scenes for any number of occasions including for dinner parties or movie night. With just the touch of a button, your lights will dim, your shades will close, and your movie will start. Your customization options are endless with Crestron.
High-Quality Hardware
 Crestron personally manufactures all of the parts used in its systems to ensure that they are made to the highest of standards. They are the only automation company in the market to do this. You can trust that your system will be reliable and will last the test of time. All of Crestron's new releases work with their legacy products, so you won't have to worry about your products becoming out of date.
Compatibility With All Of Your Favorite Devices
If you have preferences for manufacturers outside of Crestron, you don't need to worry. Crestron partners with many of the top manufacturers in lighting, security, climate control, and entertainment, so you don't have to compromise. Any partners go through Crestron's rigorous testing standards to ensure they fit seamlessly with their products. Your Crestron dealer will help you to integrate your compatible devices into your Crestron system so that you can enjoy a seamless experience.
A History of Stellar Performance
Crestron is one of the leaders in the home automation industry for a good reason. For over thirty years, they have offered top of the line products to the luxury automation market. Whether you are interested in commercial or residential solutions, Crestron has a product for you.

 

Are you interested in a home automation project for your Newport Beach home? AVX Design is your trusted local Crestron dealer. We have been serving the New Beach area since 1998 and would be happy to help you with your project. Call (310) 445-9989 of fill out our online form to get started on your home automation project today!

No video selected.